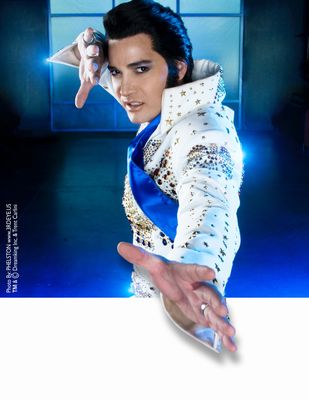 by T. Feld
A shoe-polish black forelock dangles precariously over his forehead. The hips gyrate and swivel with unerring accuracy. His eyes beckon the crowd with a knowing twinkle. The upper lip curls into a familiar quiver. Showcasing a powerful vocal range throughout all the standard hits, you may think Elvis really is in the building after seeing Trent Carlini do his thing at the Sahara Showroom.
More than just an impersonator or tribute performer, this son of Italian immigrants breathes life back into the King himself by uncannily recreating the music, mood and moves of an authentic Presley performance. An audience spanning generations filled the 800 seat venue nearly to capacity at a recent Saturday night show that evoked the spirit of a genuine Elvis Presley concert, complete with screaming, swooning women rushing the stage for a chance to touch their idol.
Trent Carlini provides a true retrospective of the King's career and song catalog, beginning with early standards such as "Blue Suede Shoes" and "Hound Dog", continuing into the "Jailhouse Rock" and "Viva Las Vegas" Hollywood hits and building to the crowd-pleasing "Burning Love". Carlini also weaves in "Love Me Tender", wandering into the front row to romance a couple of ladies and inviting more toward the stage for a kiss on the cheek, provided they're 21 — yes, he really does ask the girls who appear under-age!. The show includes all the King's standards, even a spot-on rendition of "Little Sister", the track later immortalized again by Robert Plant of Led Zeppelin.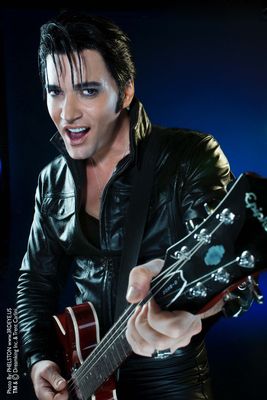 Two big screens provide background footage and narrative that fill the spaces between sets allowing Carlini to make his costume changes from 50's zoot suit style Elvis, to black leather clad Elvis, to the studded-cape King. Sometimes videos simply provide set-up for the next musical sequence, as in the Las Vegas Strip stock footage that runs through "Viva Las Vegas".
In another interlude Carlini sends a love note to fans, revealing the double-entendre of the show's sub-title. Using clips from his own youth interspersed with performance video, he explains his lifelong passion for Presley's music and persona. He view's his ability to channel Elvis as a gift. Using this gift to deliver the music and message worldwide provides fans with their "Dream King" and makes Carlini "King" of his own dreams.
A long list of accolades and honors set Trent Carlini apart from the ordinary impersonator. For the past decade he's headlined the Annual Birthday Tribute to the King, performing with some of Elvis' original band-mates. Global Record's proclaimed him "Entertainer with the Most King-like Charisma". "Legends in Concert" producers brought Carlini to Vegas in the early 90's and he appeared in that show for much of the decade. In addition he's performed all over the world and been featured on television shows such as "Entertainment Tonight", "Late Night with David Letterman", and "The Tonight Show".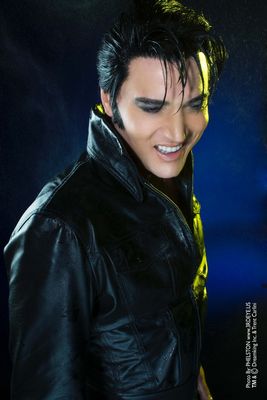 Beyond all the aforementioned accomplishments, Carlini also earned ultimate bragging rights by winning ABC TV's "The Next Best Thing" competition. An experience documented in detail via video montage, and a title which he proves worthy of throughout the night's performance. Carlini's entourage includes an energetic and professional five-piece band with back-up singer, as well as a quartet of dancers with costumes evolving from midriff-baring poodle mini-skirts to feathered head-dress showgirl outfits and later, go-go boots with hot-pants.
Crowning off the evening as only the King can, Carlini dramatically annoints half a dozen monogrammed scarves with sweat and passes them out to adoring female fans flocking the stage during the show's "Fools Rush In" finale.
Upon exiting show-goers have the opportunity to purchase scarves plus other memorabilia, as well as get a Polaroid snapped with the "Dream King" himself. Your ticket stubs entitle you to a $2.00 double shot in souvenir glass at any Sahara bar, and an extra $5.00 chip when you put down $20.00. Not a bad deal. After 75 minutes in the presence of The King, who wouldn't feel lucky!