Las Vegas Shows and Entertainment:
Viva Las Vegas Show Tickets and Reviews
Viva Las Vegas at Stratosphere Tower
Reviewed March 14, 2001 by Ted Newkirk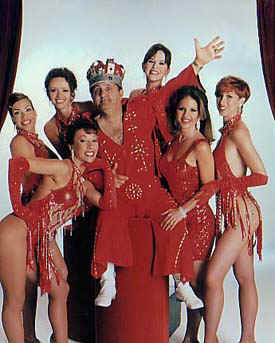 Viva Las Vegas is about as close as you can come to a generic budget Las Vegas show. Fortunately, the price is modest and it doesn't claim to be any more or any less. Las Vegas' longest-running afternoon show combines singing, dancing, and comedy into an entertaining little mix.
Principal singer Natalie Carson opens the show and performs a number of songs throughout Viva accompanied by five sexy female dancers. It makes good entertainment and pleasant eye candy.
The comedy lineup is subject to change, but they manage to always have a couple of pretty good talents. The emcee (who's name I failed to record — my apologies) had a few new twists on the standard Vegas jokes (losing at craps, the all-you-can-eat buffets) and kept everyone entertained.
Big John" Bruce Mickelson appeared later with his special brand of southern humor, playing the "good ole' boy" that he probably is, and building up a great comedy performance with his comments on the way things are between men and women today.
Viva Las Vegas shares the showroom with American Superstars. While a little bit boxy, the room has the latest in lights and sound and is large enough that you are seated around tables with plenty of elbow room. This helps contribute to the over quality feeling for a somewhat no-frills show.
The closing act is "Golden" Joe Baker who does an Elvis impression that is like none other. Kind? No. Entertaining? Not bad.
Viva Las Vegas performs daily except Sunday at 2 p.m. and 4 p.m. in Stratosphere's Broadway Showroom. Tickets are $13.95 plus tax and may be purchased at the Stratosphere. The show is "all ages," but there are bare bottoms on the dancers and a few swear words and slight raunchy jokes in the comedy bits so bring children at your discretion.
Because the Stratosphere is located at the far north end of The Strip, it is wise to spend a few hours and take it all in. This time of year, you can catch the 4:00 PM Viva Las Vegas, head up to the top of tower for happy hour in the lounge (which lasts until 6:00 PM) enjoying cocktails with the view, and get to watch the sunset shortly after. Seeing both The Strip and downtown morph from day to night with that panoramic view is a fantastic experience. Also, you can buy a discounted ticket at the box office which includes tower admission and a buffet, getting both at a savings.
No related links found