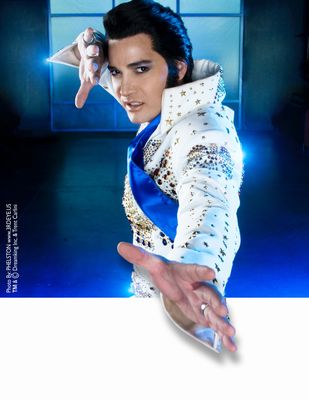 by Nicole "Niko" Acevedo
?
Hip-shakin', heel-tappin', finger-snappin', and smooth-talkin'. Trent Carlini is back on his hog and ridin' into town with an all new "Elvolution" show for Elvis fans of every generation. On my left sat a sweet couple delighting in Carlini's vibrant tribute of the Elvis they once knew, reminiscing of the good ol' times after the show. Elvis once shined under Las Vegas lights, performing at the International Hotel (currently the Las Vegas Hilton). Now with his slicked back jet black pompadour and waaaay cool sideburns, Trent Carlini keeps the ladies screaming with excitement and stealing kisses from him all night long.
?
Elvolution highlights Elvis' successful musical career starting with the classic rock n' roll tunes of "Blue Suede Shoes", "Don't Be Cruel" and "Shake, Rattle & Roll". Carlini's voice is strong and wide-ranging, his movements engaging. With every sway of the hip the audience can't help but dance in their seats and clap to the beat.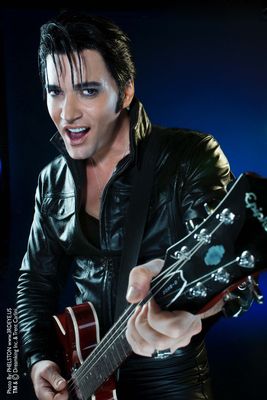 Like the couple beside me, those of you who experienced the days of The King himself will discover that fond memories emerge from the recesses of your psyche as Carlini evokes the energy of what made Elvis the King of Rock & Roll. From a very young age, Trent Carlini has been drawn to rock ?n' roll and was greatly influenced by The King and his impact on the music and culture of that time. Since Elvis' death, Carlini has dedicated his musical career to pay tribute to The King and keep his unique style and music alive.
?
Lovebirds and Elvis movie fans will especially enjoy Carlini's performances of the title love songs from the movies Blue Hawaii and Love Me Tender. The women could hardly contain themselves as The Dream King handed out Hawaiian leis accompanied by flirtatious kisses.?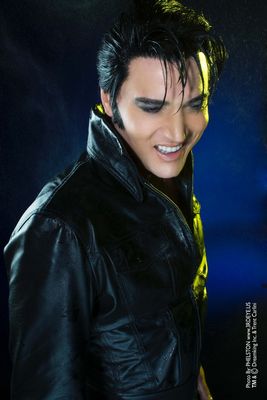 Arrive early, grab some drinks, and lounge inside Triq Nightclub on the first level of the Wyrick Theatre and connect with fellow Elvis lovers and others from in and out of town. Located at the Steve Wyrick Theatre inside the Miracle Mile Shops of Planet Hollywood Resort & Casino, treat yourself to an evening unlike any other on the Strip and see The Dream King perform a total of 20 classic hits. Remember classic isn't old? it's timeless!
No related links found