Las Vegas Shows and Entertainment:
Zumanity – Another Side of Cirque Du Soleil Show Tickets and Reviews
Zumanity – Another Side of Cirque Du Soleil
Reviewed November 2006
by Nancy Dickinson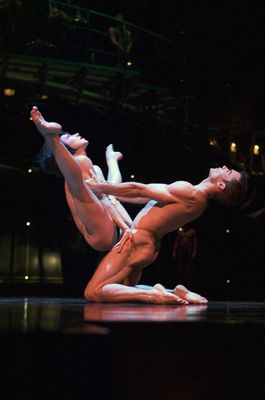 Cirque du Soleil has always enlightened the spirit with brilliant expeditions celebrating life, beauty, and humanity. It is then only natural that the sultry free-flowing-love show "Zumanity" be born. After all, what is one of humanity's undoubtedly favorite and essential functions?…sex of course.
Love is limitless at the New York New York heating up a giant Las Vegas bedroom cabaret style. Zumanity is peeling away the glorious layers of intimacy and sexuality with a story about personal freedom and acceptance, beauty in all it's facets, and the celebration of the mysterious, wonderfully convoluted…love.
The Zumanity experience doesn't start with the first act, but rather upon just walking into the lobby. The aphrodisiac hors douvers complimented by hypnotic members of the Zumanity family cast slinking around with playful sexual energy resembled what one might imagine as a naughty little playground for cupid. The showroom color theme? Appropriately red to match the blush that inevitably rises during the pre-show warm up. Between the sexy emcee drag diva "Mistress of Seduction" and the lawless bedroom talk from outrageous characters of all shapes and sizes, the audience is good and ready to be seduced Cirque du Soleil style.
Starting the journey through love are some incredible dance spectacles from women that are powerful, primal, and utterly passionate. These fade into the stage rising and presenting a large glass bowl of water embellished with two gorgeous, wet seductresses. This sort of bath time in heaven involves the two goddesses gliding through the water, striking unparalleled bablancing poses and testing their physical and sexual limits.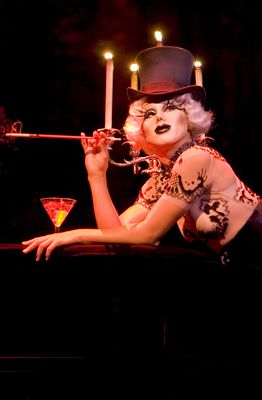 An aerial hoop act by the ultimate schoolgirl fantasy, though hot, hot, hot to no end, by that time provoked the question, "Hey, where's the beef?" Where in which Alex rises, playing hide and seek with his costume and anatomy alike, revealing a body of such impeccable beauty one would assume he was definitely from another planet. Following Alex's heat is an intimate hand balancing performance between a male and female that is a powerful display of oneness and trust in a relationship. Then, flying solo in his own world of unconventional physicality, a contortionist brings that good ol' nature-defying factor back to showmanship striking flexibility poses from which one absolutely can't look away.
Though all impressive, none of these feats would have half the impact on audience members without Zumanity's one of a kind orchestra. The music, composed by Simon Carpentier, is not so much an embellishment as it actually molds the show itself. Simon stated, "The show is about a party, so I have to make the people on stage dance." All genres of music bring the showroom to life, and more so, the acts performed. In particular, music plays a giant role as a woman desperately tries to get the attention of her T.V. hypnotized man. Heavy metal guitar screams and earth-shattering bass notes fire her up enough to literally bust out the whip on him and take back her man.
"They can't procreate, but boy can they decorate!" Next is a short trip into the intense and often troubled world of homoertoticism. Two men inide a cage live out a giant dichotomy of fighting and loving each other; freed from the cage only when their identities themselves are freed. Following their personal acceptance is an act that immediately intrigues all as soft erotic groans and heavy breathing fill the air. Bound by straps, Laetitia self-inflicts pleasure and pain as she performs a sexually dynamic aerial rope act. Her arousay, both sadistic and beautiful, is an appropriate show finale for it definitely represents a "Climax" in more ways than one.
The ending party is a circling stage; a lucky love destination of the Zumanity family orgy; a real sexual smorgasbord of individuals of all shapes and sizes with only one important thing in common- an open mind; "a cabaret to climax!" Everyone is invited to hop on, audience members alike, free to express love, share it, and celebrate it. A married couple of 40 years is pulled from the audience on stage to slow dance. Their energy is marveled at more than the most outrageous act. Their love, the most incredible feat, is recognized and cherished, crowned the ultimate player in humanity…Zumanity.
No related links found